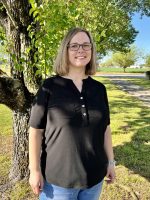 Office Administrator
(252) 566-9478
Wendy is married to Jonathan, and they have 3 children. A product of Neuse Baptist Association, Wendy grew up attending Emmaus Baptist in Dudley, NC. She graduated from Campbell University in 1999 with a Bachelor of Arts in Mass Communication. After a brief tenure in Radio Production (and much before marriage & family!), she responded to the Lord leading her to go onto the Mission Field, and served in the Metro New York area as a US/C-2 missionary with NAMB in the early 2000's.
Wendy has since worked with Baptist Children's Homes, Baptists on Mission (NC Baptist Men), and in 2015 she joined Neuse Baptist Association where she serves alongside pastors and churches as the Association's Office Manager. Her favorite part of this work is hearing and seeing the many ways NBA Churches work to minister to their church families & communities.
When she's not at work Wendy enjoys walking, and walks various 5K's throughout the calendar year. She also enjoys keeping up with national news, exploring new places with her family as their schedule permits, Sunday afternoon naps, banging any frustrations away on the piano, and lots of vanilla creamer in her coffee. …And yes indeed, she STILL loves NY!